DATA & ANALYTICS SOFTWARE
Screen with AI-driven search technology
Take back control of your trademark search program with our range of AI-driven solutions for trademark clearance, screening and analysis.
Gain rapid and cost-effective access to the data, automation and analysis you need to make informed decisions about your trademark filings.
Trusted by both in-house IP departments and law firms, our proven technology employs sophisticated algorithms and machine learning to provide detailed trademark search reports faster, cheaper and more accurately than manual search services.
Choose from our range of intelligent trademark search solutions, including:
ProSearch™ screening, our combined trademark search and analysis solution.
Comprehensive word mark search
Full image/device mark search
Full pharmaceutical trademark search
The world's best trademark search algorithm:
Whatever search solution you need, you can trust our intelligent AI-driven algorithm to identify all (99+%) identical and confusing similar trademarks quickly and efficiently.
Automation designed to save you time:
Reports are delivered in as little as 15 minutes both online (PDT, RTF, Word, HTML and Excel) and to your email. Results are ranked by relevance to minimize review time with sophisticated tools for further filtering, sorting and coding matches.
High-quality data from 240+ trademark databases:
We update our servers every day with the freshest official data, so you can be sure your access up-to-the-minute results in the territories that matter most to you, from individual national registries to WIPO, EUIPO and the 50 US States.
Customize and collaborate:
Add your own branding to easily create sophisticated reports for your clients or internal business units. Share and work together on reports, both inside and outside your organization, using in-built collaboration tools.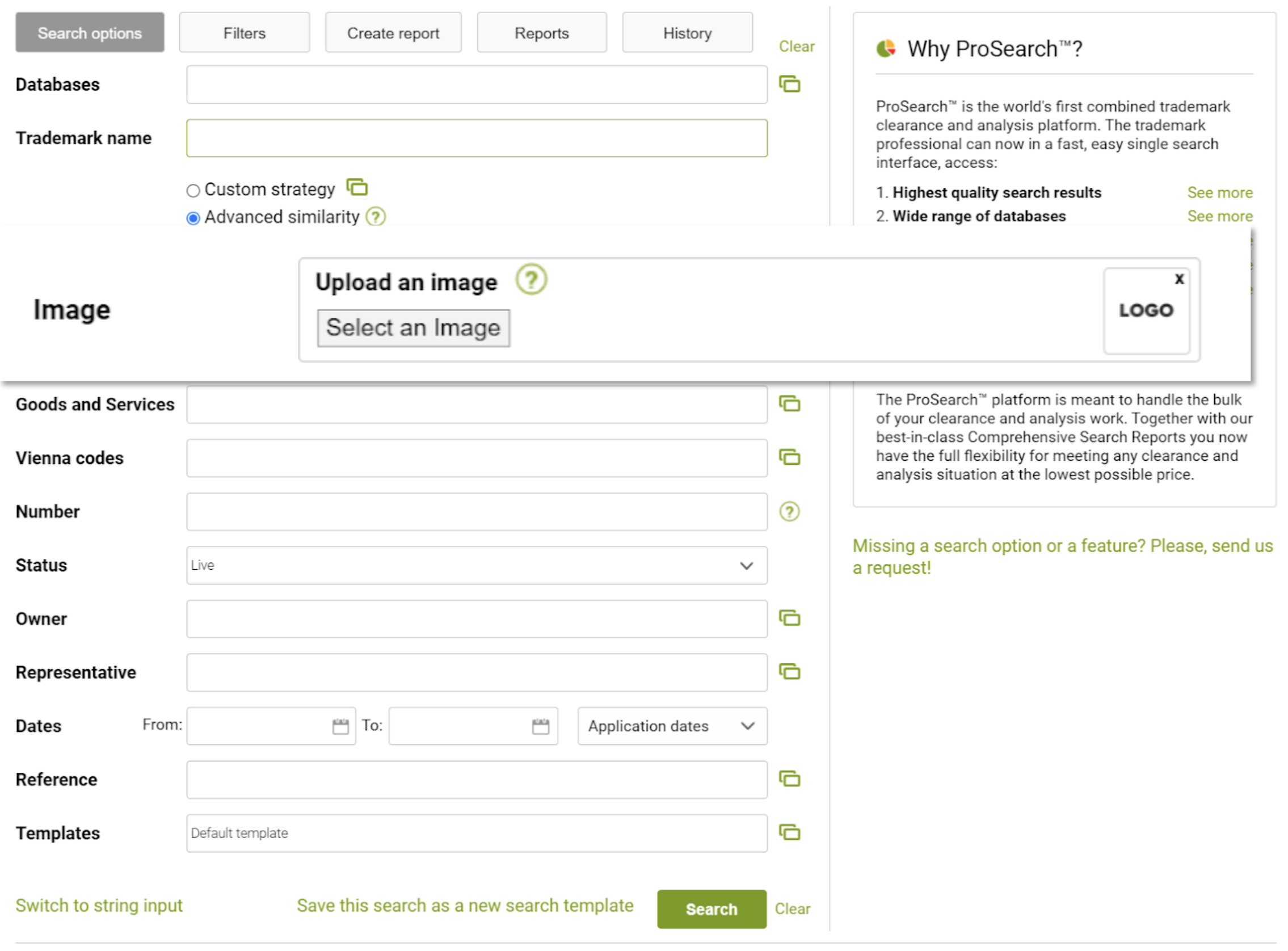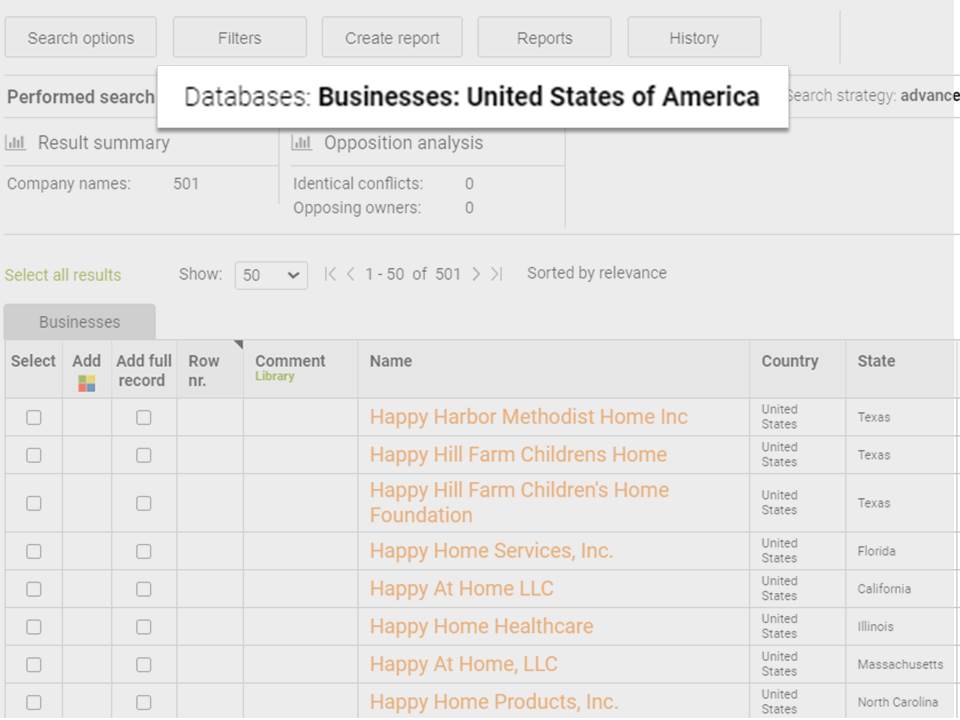 Unlimited trademark screening and analysis with ProSearch™
Take complete control of trademark search and clearance at ultra-competitive pricing by choosing ProSearch™ screening, the world's first combined trademark clearance and analysis platform.
ProSearch™ screening provides brand owners and their IP advisers with the ability to search directly in 240+ trademark databases, including WIPO and EUIPO, to identify identical and similar word and image-based marks, plus company name and pharmaceutical data.
Backed by AI-driven technology, automated analysis and efficient workflows and lightning-fast delivery of results, ProSearch™ screening offers unlimited searches and high-quality results. Every search will flag opposing marks and list aggressive opposers to provide easy access to the insight and data you need to inform trademark decision-making at every level. 
ProSearch™ screening and related trademark technologies are delivered and supported by Markify, a Questel company.  
Comprehensive word mark search
Run a full availability report in minutes! Our powerful trademark similarity algorithm searches 240+ trademark databases to produce rapid and high-quality results:
Rapid searches for marks that are identical, phonetically or orthographically similar, including misspellings, prefix/infix/suffix variations, vowel and consonant similarity, plurals and stemming, abbreviations and acronyms, translations and other similarities.
Up to five classes per trademark always included
Plus identical results and dead marks in all classes
Additional keyword filter for goods and services
Translations of goods and services into 40 languages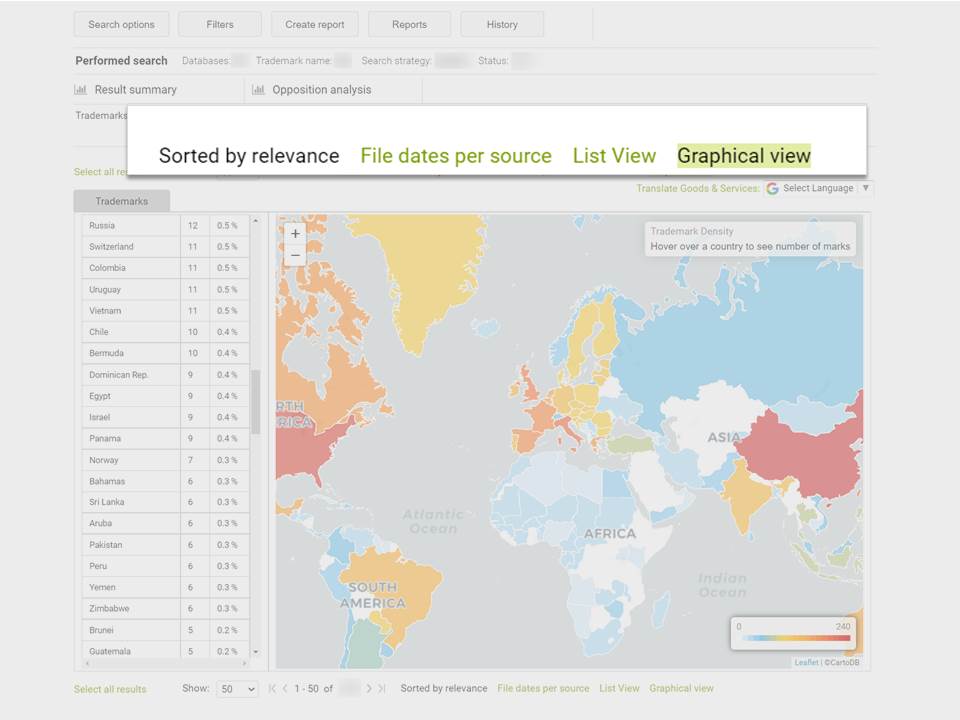 Full image/device mark search
It's now even easier to clear image, device and figurative marks worldwide! Our powerful trademark image algorithm automatically searches against global image mark registrations to identify potentially conflicting registrations. Choose between our cost-effective algorithm-only solution or specialist-driven search for even more targeted results.
Global coverage: 240+ trademark databases
Image search includes design marks, device marks, figurative marks, images marks (or however they are referred to in the local registry)
Only search software to include common law images
Algorithm results in less than 15 minutes; specialist results in 3-7 days
Specialist-driven search includes pre-selection using design and Vienna codes for enhanced security and peace of mind.
Full pharmaceutical trademark search
Effectively clear your pharmaceutical trademarks! Our trademark search software instantly screens all major pharmaceutical sources and global trademark databases in your chosen jurisdiction(s) for advanced similarity.
Full pharmaceutical data coverage, including Pharma-in-use (IMS Health/IQVIA), International Nonproprietary names (INN), European Medicine Agency EMA), USAN stems, National Drug Code Directory, POCA, FDA Books, and optional common law search (trade names, domains, web, images, social etc)
Choose from 240+ trademark databases, including WIPO, EUIPO and the 50 US States
Relevance-ranked results within 15 minutes
Translations of goods and services into 40 languages
Bulk discounts available
Looking for search reports with legal advice?
For trademark searches "with legal opinion", we recommend the clearance and availability solutions offered by Novagraaf and Brandstock.